Most people visiting Krakow make it the main point to visit The Salt Mine in Wieliczka which is located no more then a few kilometres from the Krakow city centre. Well, the tour was very recommended by the hostel that I was spending at. And since I came to Krakow for a few long days, I decided to see a few cultus places. One of them is apparently the salt mine in this nearby village.
The hostel's receptionist was encouraging me to take this trip to Salt Mine giving me a hundred or so reasons why the spot is so worth visiting. And at one point I though "why not, I have a lot of time, don't need much money….". Bang! I bought it. Thought the day was really hot, the salt mine localised a few hundreds below ground was very cool.
I joined to some group of people with an english speaking guide tour and I have learned a lot of new, interesting things. What terrified me the most was a fact that people who used to work in the mine used to use horses to help. Well, some of the animals didn't back up to the surface for even 20 years!! Obviously, such the treatment didn't live the animals with no affects. Many of the died and many lost they eyesight.  I must admit, I have never before been to such place, to mine.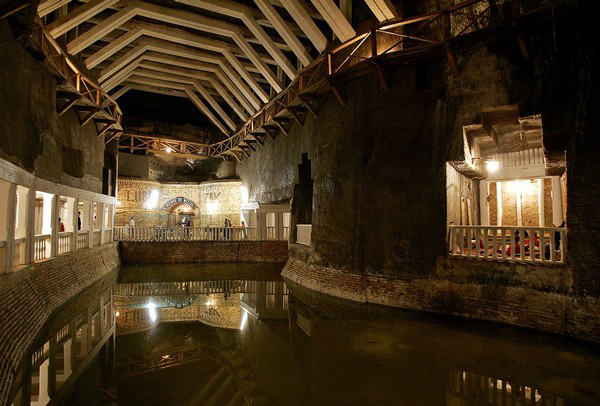 But this mine "Salt Mine" was really cool. It impressed me so much that I would be ready to stay there for longer. The funniest moment was when our guid told us "you can try the walls guys, this is real salt, the whole mine is made of salt. It wouldn't be a salt mine tour if you don't try the salt. So, yes, I also tried and must admit everything there was made of salt. I really recommend visiting Salt Mine – beautiful place.